Authors: Mitalis
The CEO's Compass has four strategic steps for monitoring and measuring the tactical business activities for staying 'On-Course'. The business model serves as an on-going continuous improvement process. The check points / steps are specifically designed  for redefining
By John D. Sutter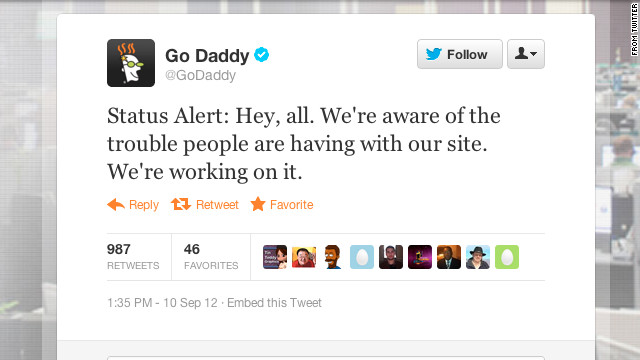 Update: GoDaddy says hackers are not to blame for the service outage.
GoDaddy, the massive Web hosting company, went down for several hours on Monday, taking an untold number of websites with it.
A person affiliated with the hacking collective Anonymous — named @AnonymousOwn3r on Twitter — claimed responsibiRead More…
Authors: Derrick Wlodarz
Tackling any topic related to rates is likely one of the most debatable areas to touch with a ten foot pole. Technicians are stoutly protective of their pricing structures when the discussion comes up. However, I'm admittedly adventurous in this realm and believe that the more open we are with effective ways to address travel costs, the better we can serve our customers in settings fees that are appropriate for both sides. I took a chance to address proper self-worth valuation when it comes to pricing a little while back, but let's see if we can tackle travel costs this time around.

My goal here is not to say that my methodology is necessarily better; it works for my computer repair company FireLogic and I'm open to sharing it fully with fellow techs. The overarching goal with this article is to merely establish a friendly debate on all of the available methods for charging on travel, and weighing the pros/cons of each. There is no single method or rate that fits all technicians. We're all disparate in our own ways: serving different communities, working with different customers, and operating within distinct socioeconomic regions.
The Technibble forums are generally host to some interesting discussion on travel fees and how to determine them. A few particular threads hosted some great insight like this one, a thread related to call out charges, and this discussion on how to charge for visits that are out of area. I'm going to admittedly pull a mixture of ideas from various forum postings below to give people an idea of what various techs have concocted to meet this growing need. Let's take a look at the different ways you can charge your own customers for travel time.
The flat hourly rate
I'll cover this one first since this is how FireLogic handles travel costs. I like this model because it's simple for a customer to understand and doesn't require any extensive tracking/recording besides time. My view is that if someone is willing to pay for us to travel out to visit them, a flat hourly travel rate properly compensates the tech that needs to make the trip and covers gas expenses. Our travel rate is currently $20USD/hr (about 1/4 of what our hourly onsite rate is) and has proven to be a happy medium for our customers and techs. We do not charge for return travel, as the notion goes that the next customer being visited will pick up the subsequent trip as their visit charge. Some forum goers admit to charging their full hourly rate for travel, which is understandable depending on your situation. Do your research before establishing anything, but for the Park Ridge and suburban Chicago area (USA) this system has been very successful for us with little customer pushback.
Enforcing minimum onsite service fees
This is an roundabout to charging outright travel fees or an hourly trip rate. In this method, you notify your customer that they will be paying, for example, a one hour minimum of service for the visit. More than a few techs on the forums prefer this approach as it keeps travel fees out of the customer's sight, and also cuts back on excessive abuse of onsite labor for small tasks. From the consensus I could gather, it seems that rural techs tend to like this method as travel fees are frowned upon in such locales but customers take positively to this approach. I don't think it would be a bad idea to use a hybrid approach of a travel rate with an onsite minimum. Again, your circumstances and competition's methods will have a big bearing on your own attitude towards this model.
Staggered travel flat-rate fee
Yet another way to charge for travel is to create a graduated, or staggered, trip charge schedule that is based upon the number of miles from your home base to the customer location. The benefit of this model is that it directly segregates shorter trips from longer ones, and gives the customer an easy way to estimate their final total. However, the downside is that if traffic catches a technician, even a short 4 mile trip in an urban area could turn out to take just as much, if not more time, than a 10 mile journey in the countryside. I personally frown upon this model since I service the suburban Park Ridge region of Chicago, and traffic can be dicey depending on time of day and the direction of a customer location. For rural techs, this may be more appealing.
Charging "by the mile" based on a standard rate
A similar method as the staggered model above, but this one ties exact mileage or distance traveled to a standardized rate "per mile" or "per kilometer." For the United States, I have heard of many techs tie their rate to correlate directly with the mileage rate used by the federal government. As with the staggered method, I don't believe it fully takes into account the time spent traveling to a customer in busy, traffic-drenched areas. But for techs that want a simpler, streamlined way to present their travel rates to customers, this is about as clean cut as it gets. Tying your travel rate to the same as the government uses cuts down on arguments from clients because you can merely point them to the higher authority for why you charge what you do.
Utilizing different onsite vs offsite service rates
My company uses this notion for how our prices are set. For our case, it's not directly to take into account travel costs. We differentiate hourly rates moreso because of the simple fact that when I am onsite, I am dedicated solely to that single customer. I cannot multi-task in any way like one can do in-shop or from their home office. For this reason, a different price is justified. But some techs claim that merely forgoing a separate travel fee and charging an inflated 20-30% of their regular rate is effective. The benefit is that you can mask your travel costs to the customer. The downside is that such a massive difference in rate may sway more customers than you wish to use your services at the "discounted" rate and stick to remote support or the like. Good or bad, it's up to you to decide how this may work out.
Whichever method you ultimately decide to use, remember that doing some competitive analysis is always key to a rate structure that customers will be open to. You don't want to blindly change your travel fee methodology without sniffing around to see what your local techs are charging, and how they are structuring their fees. Systems that may work well for rural areas are not always suitable for urban areas as I described above. Do your homework, reach out to some customers for their feelings, and make an informed decision. How you publicly account for travel expenses using any of the methods above may be just as important as what amount you charge a customer.
Feel free to post your own ideas or comments on what you think is the best way to charge for travel. What works? What doesn't? Let us know!
© Technibble – A Resource for Computer Technicians to start or improve their Computer Business
To get started with your own computer business, check out our Computer Business Kit.
Authors: Guest Writer
Guest Post by Craig Lloyd:
Not too long ago, going through the process of being able to accept credit card payments for small computer businesses was probably a daunting task for most. You would have to set up a merchant account and then buy expensive processing equipment. However, with the introduction of Square in 2009, the days of easy credit card payments are finally here, and PayPal just recently launched their own version, called PayPal Here, to take on Square. These services allow computer businesses to easily accept credit card payments through iOS and Android devices.
Both Square and PayPal Here have their own separate advantages, but are also so similar that it can be difficult to decide which one is best for your computer business. Let's have a look at the two services and see which one would be ideal for you.

First off, Square and PayPal Here both charge a transaction fee for credit card swipes. Square charges a 2.75% fee, while PayPal Here charges a slightly lower 2.70% fee. The difference is very minute at first, but it can add up over time if you plan on bringing in a lot of transactions.
If, for any reason, you must manually enter in credit card transactions (if you don't have the card reader for instance), both Square and PayPal charge a 3.5% + $0.15 fee per transaction. There's also a $1,000 weekly deposit limit with manual entries. If you go over $1,000 for any given 7-day period, anything over the $1,000 will be held for 30 days before they're released to your bank account.
However, there will be very few instances where you would manually enter in credit card details. Both Square and PayPal Here offer their readers for free with free shipping, and the accompanying app is free as well.
Customer service is obviously a huge factor when it comes to choosing a product or service. PayPal Here is promising to have both phone and online support 24/7, but since the service is just launching, it will be a little while before we find out just how good that support will be. As for Square, it hasn't fared so well in the customer service department. Many Square customers have complained about the lack of live and easy-to-reach support. Only time will tell to see if PayPal eithers suffers the same fate or rises above.
Both Square and PayPal Here are great services and there's nothing about either that would be an extreme deal breaker (unless you're using Android, for which PayPal Here doesn't support just yet). However, if you've been a loyal PayPal user for some time, choosing PayPal Here would be a good bet, since you'll already have a wealth of features at your disposal. Plus, PayPal Here offers the ability to accept paper checks using your camera as a scanner of sorts.
If you're going into it as a complete mobile-payment virgin, Square's simple user interface makes the product really easy to use and they even have a separate app for the iPad that turns it into a full-fledged, easy-to-use register.
Whatever you choose, may your business flourish with the greatness of mobile-payment technology and let us know how it works out for you when you finally take the dive into the mobile payment pool.
Guest post by Craig Lloyd. Craig has been tinkering with computers for over eight years and is CompTIA A+ certified. For the past three years, he's been writing about and sharing his love of technology at various websites across the internet.
© Technibble – A Resource for Computer Technicians to start or improve their Computer Business
To get started with your own computer business, check out our Computer Business Kit.
Authors: Diana
Guest blog post by Dan Shedd, President of Taylor Box Company The only way that companies get to stick around in a competitive industry like ours is to evolve quickly with emerging customer needs and to never settle for second best. We've been in business for 126 years and counting and a key to our […]
Authors: Mitalis
VAMBOA would like to congratulate Wendy Matheu for being named one of the DiversityPlus Top Women in Power award winners. Ms. Matheu, the Supplier Diversity Manager at Amgen, was responsible for Amgen's sponsorship of the Power Your Business Conference in April, and she also
Authors: Bryce Whitty
D7 is a small, portable application designed to aid in many computer repair related tasks and provide a uniform procedure for technicians to follow by automation.
D7 has multiple functions such as being an interface to quickly go to various system areas such as the system file checker. It also contains many fixes for common Windows problems such as repairing Internet Explorer, Repair Permissions, PIO/DMA mode fix, Repair Windows Update and more. It also contains a good collection of Windows tweaks.
D7 is much more than just a glorified front end to run tweaks and scripts though, it can also be used for automation in its Maintenance and Malware areas. Simply tick the tasks you want it to do such as Delete Temp Files, Empty Recycle Bin, Run CCLeaner and Defraggler and it will do these tasks automatically. You can also add your own applications for it to run automatically one after another such as various virus scanners for example. Take a look at the screenshots below to see its full functionality.
This application requires third party applications to make use of its full functionality. D7 is free for personal and commercial use and it was also created by a Technibble forum member.
Warning: This is a technicians tool and not designed for end users. This application can do damage to a system if used incorrectly. Use at your own risk. Additionally, due to the registry editing and file manipulation nature of this application, some antivirus products may detect this as a virus. These are false positives.

Screenshots:

Download:
Download from Official Site – 3.2mb
© Technibble – A Resource for Computer Technicians to start or improve their Computer Business
To get started with your own computer business, check out our Computer Business Kit. D7 – Computer Repair Multi Tool
By Derek R. Iannelli-Smith, IT Strategist, Progressive Integrations, Inc.,
I am continuing a series based upon a couple of observations.
1. Our group (ACRBO) is hungry for marketing ideas.
2. The current trend of looking for the quick fix and watch the $ come rolling in has to be dispelled.
In my last article, I outlined some basics on getting started; don't even start on this article if you have not completed tRead More…
Authors: Mitalis
2011 29th Annual Industry Liaison Group National Conference Venue
The Louisiana ILG is privileged to host the 29th Annual Industry Liaison Group National Conference, July 25, 2011-July 29, 2011 at the New Orleans Marriott. The theme for
Authors: Bryce Whitty
Do you know your stuff when it comes to computers? Do you write about computers and are computers your passion? If you are looking for an opportunity to get some solid experience or possibly join Technibble for the long haul, you might be in luck. I am currently looking for writers to write technician how-to guides on advanced computer topics. For example, I wouldn't be looking for end-user level articles such as how to install and run an antivirus program. Rather, I would be looking for an article on how to image a hard drive, how to move a MBR virus and other Technician level articles.
We also have a position open for a Business writer. I am seeking people who know the Computer Repair business and have their own tips to share. It can be telling what kind of advertising worked for you, your successes, your failures, lessons learned the hard way and the way to dealt with a certain problem.
Technibble is a growing site and as I said, if you want exposure, Technibble has hundreds of thousands of people reading the site every month.
If this is something that interests you, contact Bryce at: hiring1 [at] technibble.com
When you contact us, please let us know any experience you may have, what your expectations are (if any), and what topics you wish to cover. It would be helpful if you could let us know how much/often you are able to contribute and if you have any writing samples.
All enquiries will at least get a response and be considered, but not all will be accepted to join us.
I look forward to hearing from you!
© Technibble – A Resource for Computer Technicians to start or improve their Computer Business
To get started with your own computer business, check out our Computer Business Kit. Looking For Technical Writers, Computer Business Writers and People Looking To Get Their Work Out There