Authors: Mitalis
Nine Keys to a Successful Marketing Plan
Quantified Goals
Compatibility  of Professional and Personal Goals
Limited Number of Reasonable Goals
Authors: Bryce Whitty
"Would you like fries with that?" is probably one of the most well known cross-sells in today's society. McDonald's restaurants do this because it simply makes them more money and at the end of the day this is what most businesses are about – making money.
Data Backup
In my own business, I found that data backup was one of the easiest items to cross-sell. If a client had approached me because of a data loss incident, I would always offer an ongoing backup solution after I recovered the data. The client has already gone through the emotional turmoil of possibly never seeing their data again, that they will often do whatever it takes so that it doesn't happen ever again.
If the client is yet to experience data loss incident and I notice that they do not have any sort of backup solution in place, I would bring it up.
The way I would sell it would depend on whether they were a residential or business client. If they where a residential client I would say something like "I noticed that you dont have any sort of backup solution in place. I would imagine you would be pretty upset if you lost all these photos".
If the client was a business client, I would say something along the lines of: "How much downtime would you experience or how much money would you lose if something happened to your database".
The great thing about offering data backup as a cross-sell is you can earn money on both the hardware (like an external drive) and the service (setting it all up). I f you set your client up with some sort of offsite solution, it is also possible to make money out of this on an ongoing basis where you continue making a commission.
Priority Service
Every now and then you will have a client that comes in that wants their computer fixed yesterday. The client may be a busy business person or perhaps they are a student that has a school project due tommorrow. Whatever the case, a fast turn around time is a priority and some people are willing to pay for it.
If you already have a few computers on your bench, offer a "Priority Service" fee that will push their computer to the front of the line. If they are truly in a hurry (and not just hurrying you along because they have a Facebook addiction), most will be happy to pay a little extra for the privilege.
Go Wireless – Routers, Keyboards and Mice
Computer cables going everywhere can really bother some people and sometimes it can even be dangerous. Talk to the client about the possibility of going wireless with their network, keyboard or mouse. You can also offer to clean up their cables which can extend the callout time by 10 minutes or so, thus making you more money.
Uninterruptable Power Supplies with Automatic Voltage Regulation
If the client is in an area that is prone to blackouts and brownouts, consider setting them up with a Uninterruptable Power Supply with automatic voltage regulation. Let your clients know that their computer will stay on if there is a temporary outage so they don't lose their work. Also let them know that it helps protect the hardware from power surges. Similar to the data backup example, these are easy to sell after their computer has already been damaged by a power surge or some other power related issue.
External Harddrive Enclosures
These are a great cross-sell when someone is upgrading their computer. There have been a few times when my client's laptop wasn't worth repairing so they simply went out and bought a new one. Even though I didnt get the laptop sale itself, I still can still make make money by offering to pull the hard drive out of their old computer (assuming the original issue wasnt hard drive related) and put it in an external USB hard drive enclosure. This way, they can connect it to their new PC and access their old files on the drive.
Tune Ups
If I notice that the clients computer has undesirable software installed while I am working on something else, I offer a tune up service to help make the system run better. I would typically say something along the lines of "I noticed that there is some undesirable software on the system (adware/spyware) which can slow down the computer or invade your privacy, would you like me to remove this?". I find that most clients will say yes to this service.
Antivirus Software
You may discover that a clients computer has insufficient antivirus protection or simply no protection at all. This is a great opportunity to either sell a well rounded paid antivirus solution or take the time to install a free one. Of course, making sure that a clients computer has an antivirus solution installed is just part of being a good technician anyway.
Cooling Pads
Some laptops have some serious overheating problems. If you come across one of these laptops, consider selling the client a USB powered laptop cooling pad.
Unifed Threat Management Appliances
If your business clients has handful of computers in their office, consider offering to install a Unifed Threat Management appliance (antivirus, antispam, firewall etc..) at the edge of their network to help keep it safe from internet threats.
Phone/Tablet cases
If your business repairs devices that tend to get dropped like Laptops, tablets and phones, consider cross-selling your client a durable case for that device.
Managed Services
Downtime for business clients can be very expensive so it is best to try and catch these issues before they happen. There are two good ways to cross-sell managed services.
1. If you are at the clients location for another reason (ie, setting up a printer), mention the managed services you offer and then follow up with something like: "It is $XXX per month which may sound expensive, but think about it like this. You have X amount of staff here and if the system goes down and they cannot work, you still need to pay their hourly wage so you are losing $XXX per hour while system is down. And that isnt even counting missed deadlines or lost clients etc.. So really, this maintenance plan can actually save you money".
2. If you are at the clients location because something has already failed, you could say something like: "This issue could have been prevented. In the future, my company can monitor the computers remotely keeping an eye on the overall health of the computer. Basically, we can fix things before they fail resulting in minimal downtime".
Like most things in life, there is a right way and a wrong way to sell. Cross selling (which is offering similar products and services) must be built around the customers needs and not just selling more stuff. Up selling (which is selling a better version of the same item) can be done more on what the customers wants. Obviously will need to recommend a device that is good enough for what they want to do, but you can always go better depending on their budget such as more space, faster speeds or higher quality.
If you hire employees, you can get them enthusiastic about up-selling and cross-selling as well by offering them a commission on all additional sales. You may feel like this means less money in your pocket since the employees are also getting a cut, but chances are they will sell more resulting in more money for you in the end.
Do you up-sell/cross-sell something I haven't mentioned here in your own business? Please leave us a comment.
© Technibble – A Resource for Computer Technicians to start or improve their Computer Business
To get started with your own computer business, check out our Computer Business Kit.
Authors: Mitalis
CONTRACTS
DEFENSE LOGISTICS AGENCY
            Pierce Manufacturing, Inc., Appleton, Wis., was awarded
Authors: Derrick Wlodarz
If you're involved in serious malware removal these days, chances are that Malwarebytes has a soft spot in your heart. Technicians around the world (including my own company) have been combating "virtual gunk" on customer PCs with the help of Malwarebytes Anti-Malware since its first release back in 2008.

At my previous IT job, there were instances where Malwarebytes was the only tool that could handle specific wide-scale infections. So when the company's founder Marcin Kleczynski agreed to chat, it was the opportunity of a lifetime for me. We discussed a range of topics including the current state of malware, where its headed in 2013, and how the future of Malwarebytes' software is shaping up for the foreseeable future.
Seeing as Marcin had a recent, lengthy interview with TechSpot that went in depth about the history of Malwarebytes and their success story, we're not going to beat a dead horse there. You can read what he had to say to TechSpot on your own. I had a lot of questions that many techs may be more curious in, which he had no problems divulging his opinion about. I'm glad I was fortunate to catch the busy CEO on a light work day!
Derrick Wlodarz: Where do you feel that Malwarebytes Anti-Malware fits on a modern PC? In combination with another AV product, or as the sole protection solution?
Marcin Kleczynski: The simple answer is that it's meant to work in combination with another AV product. The product [Malwarebytes Anti-Malware] was designed about 4 years ago when my antivirus had actually failed me. I was a victim of malware. I found a forum where there were hundreds of other people who were in the same boat. Even though they claim they do it all, antivirus software simply cannot.
Very quickly, we realized that zero day threats that are polymorphic in nature were simply too much for regular AV software, and there had to be some sort of stopgap solution. That's where we came up with the Anti-Malware product. We wanted to plug those holes. We aren't looking to necessarily replace your current antivirus product; we're looking to supplement it.
Derrick: How long has Malwarebytes been around as a company?
Marcin: We were developing freeware until about 2006, and in 2007 I started writing the first version of the Anti-Malware engine. In 2008, we released the first true version of the product to the public. So while the program itself has only been available for about 4 years, the company has been in existence for about 8 years.
Derrick: In your interview with TechSpot, there was mention of a product called RogueRemover. Is that a product that you made? Or was it one of your friends?
Marcin: It was actually a friend and I. He took care of the database aspect, and it was the predecessor to the Anti-Malware product. It served as the framework for Anti-Malware, which we built off of RogueRemover. Keep in mind that RogueRemover focused only on ransomware and rogue products, such as WinAntivirus 2007 and such. That's what we really specialized in, and detected about 500 of those variants.
Derrick: This past summer, a Sophos study found that one in every 36 Macs has some form of malware installed. Does Malwarebytes have some solution to help address this problem for Mac users?
Marcin: Building a cross-compatible product for Mac and Windows is not a trivial matter; you can't just port your Windows product to a Mac base. Fortunately, we do have a component called "malicious website blocking" that a Pro user can enable on their system. In essence, we have two components: file system blocking that prevents infection from malicious files, and the second one targets blocking connections to blacklisted IPs. These websites are ones that have either hosted malware in the past or are currently doing so.
The website blocking component is a lot easier to port because it works on a more standardized level that is common to both Macs and PCs. A malicious IP is the same whether you're on a Windows or Mac system. So this component will likely be the one to get ported over in the future to any combination of platforms including possibly Linux, Mac, and mobile.
That being said, we hope to scale up in size and have a Mac research team that can detect these new threats [like we do for Windows now.] Our current research team is about 10 people, and they handle new threats via a hybrid approach of some manual work and some automated processing. We're able to scale the problem down by using our own engine.
Derrick: You also have user forums where samples are being submitted too, if I'm correct?
Marcin: Exactly. These forums are very valuable to us. This is where the "good stuff" is; the "gold" if that's what you want to call it. These are new samples that most of the honeypots out there have not even seen.
Derrick: Looking at the trends in malware today, what do you feel will be the biggest threat in 2013? What should users be on the lookout for?
Marcin: Rootkits and Bootkits; anything with a *kit in it! Just today, I tweeted out about a new Windows 8 bootkit that is already proof-of-concept. Anything that starts before Windows loads, and has to do with driver-level changes; these are all scaling in severity where criminals are getting very good at what they do.
And the other ones are those still common today, like ransomware. These are the ones that infect your machine, place all your files into a .zip file, and then try to get you to purchase the unlocking password by providing a credit card number. This is ransomware at its finest, and they're making good money from people. There will likely be a lot more evolution in this aspect of malware. It's a money business for them now.
Derrick: Malwarebytes Anti-Malware has had a similar interface for the last few years. Can we expect any major changes to the product in the near future?
Marcin: We are actively developing version 2.0 in both interface and engine, so yes, something is in the pipeline for next year. That's about all I'm going to say for now.
Derrick: Your company markets to a lot of different segments. Where do you feel the most demand is coming from these days?
Marcin: I feel it's really balanced. We started in the consumer market, and that's how we gained our popularity. People were fixing their computers at home, then went to work, and once the IT guy found out about it – it evolved via word of mouth, honestly. Corporate and small business in particular is definitely getting bigger for us, especially with the launch of the Enterprise edition we just released.
A lot of businesses are starting to understand that layered security is definitely the next evolution in protection. Having multiple scanning engines from different companies, where each company can be accountable for some aspect of protection, is starting to become key to many organizations. Universities and other schools are also buying into Anti-Malware at a fairly good rate.
Derrick: Does Malwarebytes have any intentions of becoming a rounded AV solution like NOD32 or Norton 360? What are some of the longer term plans for the software?
Marcin: It's an option most definitely, but we want to stick to what we're good at. I don't want to create an AV software, and also have an anti-malware product, and end up becoming just as ineffective as some other bloated solutions on the market. People may then steer clear from installing Anti-Malware alongside an anti-virus solution because they think one program handles it all. This is not the approach we want to push.
We're able to do everything with a 10MB installer, where other programs have a tough time in shipping with less than 100MB. It goes back to our grassroots feeling and our belief in the community at large.
Derrick: Your company analyzes more samples of malware than one can fathom. What exactly are the "worst of the worst" doing on systems today?
Marcin: That's a good question. Back in 2005-2006, you had infections that were very simple to catch. Same MD5, same filename even – I believe one was even called nail.exe. You looked for the filename, you checked its version information, matched it to definitions, and you were done. Nowadays, you and I can go to a malicious website and get infected and end up with different variants of the same basic malware. Different MD5s, different file sizes – completely different malware.
You can see how this becomes a large problem for our security researchers. We've had to evolve into using heuristics and install-pattern behavior to detect modern malware. It's becoming very challenging to detect much of what is out there.
Derrick: Do you feel that signature-based detection is going to be a thing of the past some day?
Marcin: It's already gone. Our approach is a hybrid one with signatures and heuristics, where each supports the other. The days of pure definition-based removal are long gone. Amateurs are using that now to make quick and easy malware. But if you look at all the sophisticated malware out there – the rootkits, for example – the nature of polymorphism is the scariest aspect of all this. And most major malware is using it these days.
For example, you may get hit with malware from a website claiming to offer keygens. You attempt to remove part of the infection, but the malware itself is so advanced that it will regenerate on its own and replace the missing files with fresh ones. You can't even nuke these infections piece by piece anymore.
Derrick: Where do you see as being the largest source of infections today?
Marcin: It's tough to answer, but social media is definitely the hottest one on the rise. The reason being is that with social media, it's so easy to play off emotion to easily spread infections. You can post a link on a friend's page saying "Hey, here is a photo of you – click to check it out" and by human nature, we are more likely to click on it as opposed to if we received it in an email.
Even if 10% of your friends click on it, and those friends of friends then see, it can spread very very quickly. That's definitely on the rise and honestly a genius idea for how to spread malware.
Exploits from Java and Adobe are ones that are sticking around, too. The bad guys keep finding holes in this combination of software. The final big source of infection is still from people knowingly going to torrent and P2P websites, infecting themselves very easily.
Derrick: We now know that the upcoming Windows 8 is going to offer a bevy of security improvements such as Secure Boot. Is this going to pose an issue to Malwarebytes in the short or longer term in regards to functionality/capability?
Marcin: I don't think it will pose too much of an issue honestly. We will work with Microsoft to ensure our product is as effective as possible. But what I fear is that with all of this deep-rooted security, we may actually see fewer, albeit bigger-impact breaches that will be harder to clean up and cause potentially more damage than what we see today. But it's hard to predict that far out.
Derrick: There are a few top competitors out there alongside Malwarebytes Anti-Malware. What do you feel is the single feature that sets your product apart form the rest?
Marcin: There's a lot of cool things that we offer in our software product (scheduled scanning, small updates, dual-protection modules, etc.) But the best way we differentiate ourselves is if you have an infection that Anti-Malware cannot remove, you can come to our forums and we will help you remove it for free. This is even if you are not a paying customer, and is just one of the perks that comes with our product.
Something also has to be said for our detection rates and removal success rates. This is how we grew to where we are; we are very comprehensive in our detection & removal approach.
But most important is our community approach to solving malware problems. When I had issues with an infection years ago, I will always remember how I came to a security forum to get help, and people had open arms. So I have a strong belief in this method of helping others.
Derrick: Knowing that Technibble is a place where IT professionals come for advice, is there anything you want to share with everyone as a final word?
Marcin: I think the best way to close out this discussion would be to open up the floor, so to say, to all the Technibble followers. What is it that you want to see in Malwarebytes Anti-Malware? What suggestions do you have for us? We're very interested in hearing from the community that uses our product religiously – so please leave your suggestions in the comments area below!
Note: The original interview with Marcin took place on October 23, 2012. This interview transcript was edited for length considerations and editorial clarity.
© Technibble – A Resource for Computer Technicians to start or improve their Computer Business
To get started with your own computer business, check out our Computer Business Kit.
Over the past few years cloud computing has become one of the biggest trends in today's technology realm. With this new type of technology has come the term "cloud server." While many people have fully embraced this new form of technology, many still are not completely positive about what a cloud server is and how it works.
Although there are several complexities involved in understanding a cloud server, for many peoplRead More…
Authors: Derrick Wlodarz
Your customers likely have little to no idea what goes on behind the scenes to make the internet a pleasant place for the non-geek. One of these important supporting factors is the technology behind DNS (Domain Name System) which acts as the invisible address book for any and every website they choose to visit. To the normal user, it's Microsoft.com; but we all know that in reality, 65.55.58.201 is where they're truly going.

Not to get too technical, but it's important to understand the workings of DNS if you are going to recommend services such as OpenDNS to customers (which I'll get to in a little bit.) The Domain Name System is indeed a clever invention, because it affords for easy navigation of the web by end users and works globally between domain authorities of all walks. If you want to place the concept of DNS in a nutshell, think of it as the webbing that ties IP namespace (xxx.xxx.xxx.xxx) to easily recognizable domain name addresses (xxx.com). Without it, we would have to do all of our own legwork to get to any publicly available website on the internet.



The problem with how DNS is configured for most users is that it's usually set up by the respective ISP for a customer's home or office. While this used to be a non-issue back in the days of dial up and the budding of broadband, now DNS can truly have a negative impact on web browsing. In general, these problems stem from one or a combination of two issues:
Geographic location of DNS servers: This is becoming less of a problem on today's mega-sized web backbones, but still poses a relative conundrum especially when end users are making DNS requests over slower speed links. Not all DNS servers are in prime locations; this is a bigger issue for customers who are in rural areas being served by smaller regional ISPs.
Over-burdened DNS servers: Again, this is more likely to happen with DNS servers hosted by smaller ISPs or similar DNS authorities, but I've seen it with Comcast and ATT systems too. If an end user's router or home PC is pointing to DNS servers that can't handle their request load effectively, overall response performance suffers and this equates directly to what we know as "slow internet."
If you think all DNS servers are equal, run some of your own tests. The networking & security guru Steve Gibson has a wonderful free tool available called Domain Name Server Benchmark. It is preloaded with a number of popular DNS servers in use today, but you can fully customize it to include servers from OpenDNS, Google DNS, and any other provider you may wish. If you're purely looking for the fastest possible response on DNS queries, DNS Benchmark is truly your best bet.
Changing DNS server settings is fairly easy for any computer repair technician that has ever touched the IP settings in Windows (or MAC). But keep in mind that how you adjust DNS for a customer will impact everyone who uses a particular machine or set of systems that share connection from a common router. There are benefits to making DNS changes on the router level because:
Everyone will not have to adjust their systems; only the common router will need the adjustment.
You can even offer further browsing redundancy by choosing primary and secondary DNS servers that span different providers (say, Google DNS and OpenDNS, which I recommend doing.)
Changing DNS settings on a customer's router is my preferred method because of all of the above, but namely, time savings in configuration. If any guests come to the home or office and use the internet connection, they too will be given the benefits of utilizing custom DNS settings. Every router handles DNS settings configuration differently; I highly suggest you visit the support section on your router manufacturer's website before making any mistakes.
Some techs may claim that ISP-provided DNS settings work just fine, and I won't necessarily disagree. Everyone's needs from DNS and relative performance on a given pair of DNS servers will be wildly different. Much of this stems from what I mentioned above regarding location, burden, and other factors. But it's what you don't know about alternative DNS solutions (especially my favorite OpenDNS) that will get you interested.
While Google DNS merely exists to provide a speedy alternative to what ISPs offer, OpenDNS takes this concept one step further. The company employs specialized technology that actually spans DNS requests to datacenters that are closest to your location geographically without any intervention. In addition, because they handle so many requests from different parts of the world, they have arguably the most up-to-date single repository for where everything is on the web. This significantly reduces the need for them to "ask" other DNS servers where a website or file may be located.
Another key benefit is how they provide malware blocking at the network level by literally sifting out known-infected websites and files before you can even get to them. This is beneficial because, by default, ISP provided DNS servers never filter out the responses they provide. Even if you mistakenly type in the address of a completely known and virulent malware site, chances are your ISP will take you there – without hesitation.
One of the biggest contributors to the spread of malware today is the fact that end users who truly can't recognize bad links or search results are visiting pages on the web where they'd likely prefer not to be. OpenDNS takes the guesswork out of the process because it maintains a centralized blacklist of these sites that is in effect for all users of the service (free and paid.) For customers of mine that have bad histories with such links, OpenDNS is always a recommendation behind solid anti-malware software like NOD32.
For those that need it, OpenDNS even offers paid levels of their service for home and business customers. Home users can benefit from the parental control functionality via custom block lists and category-powered filtering of their home internet connection. I've recommended the service to numerous residential clients in lieu of something like NetNanny (which is installed per-PC; needs updates delivered; etc.) There's no client software to install, no signature updates to worry about, and it affects EVERY device that wants to use internet in a home – which means any young visitors won't be able to bypass filters merely by bringing their own computers.
The business level subscription to OpenDNS goes even further by providing advanced logs, web access control for workers, strict malware and botnet prevention options, and website blocking. One of the greatest reasons that OpenDNS is truly a remarkable product is because you can gain access to the speed and malware prevention benefits without paying a single cent – merely by configuring your router to point to OpenDNS.
If you want to switch to OpenDNS on your own router or on a customer's setup, here are the two DNS servers that they publish (follow their instructions page for generic guidance; consult your router's documentation for in-depth steps):
PRIMARY: 208.67.222.222
SECONDARY: 208.67.220.220
I tend to take a balanced approach in my own setup for customers which uses a hybrid combination of OpenDNS as the primary server, and Google DNS as the secondary server. You don't have to do this, but I feel that if for some reason OpenDNS has outages across both of their systems, at least your router can then tunnel DNS requests to a complete third party. For redundancy, this is a great approach. My preferred router configuration happens to look like this:
PRIMARY (OpenDNS): 208.67.222.222 or 208.67.220.220
SECONDARY (Google DNS): 8.8.8.8 or 8.8.4.4
How you configure your router is up to you, but give the above combination a try to see if your website browsing speed is improved. You will also gain the transparent malware blocking and phishing protection that OpenDNS advertises. My own experiences have found that OpenDNS alone will not block all malware – but it does cut down on "easy entry" for about 70% of mistaken search result clicks by mistaken customers. Any extra bit helps, and I think OpenDNS has a great product for the price tag of free.
What do you think of OpenDNS? Do you prefer some other DNS service other than OpenDNS or Google DNS? Let us know in the comments section!
© Technibble – A Resource for Computer Technicians to start or improve their Computer Business
To get started with your own computer business, check out our Computer Business Kit.
Authors: Bryce Whitty
Disk2VHD is a free application that will make a copy of a hard disk from within the OS using Windows' Volume Snapshot capability. This copy can then be mounted in Windows as a 'disk' or run as a Virtual Machine.
Some of the reasons why you would want to do this is to make a backup of the OS, test a repair in the virtual machine copy before you do so in the live environment or move an existing OS installation into a new or different one. For example, backing up a clients install of Windows Vista, doing a clean install of Windows 7 and then allow the client to run their old Windows Vista install in a Virtual Machine.

The application is small, fast, portable and very easy to use. Simply run the executable, choose the location where you want to backup the Virtual Machine image to, tick the drives you want to make an image of, and press "Create".
As the name suggests, the image gets turned into a .VHD file which is native to MS Virtual PC. One downside of MS Virtual PC is that it only supports a maximum virtual disk size of 127GB. However, other software such as VirtualBox can also open .VHD files and support much larger image sizes.
In my own tests, I made an image of my C: drive which took around 5 minutes. I opened up Virtualbox, pressed "New" and went through the Create Virtual Machine wizard. When the Hard Drive stage came I chose to "Use an existing virtual hard drive" and chose the .VHD file that Disk2VHD created for me. I got a Blue Screen of Death when I first tried to boot the VM but the solution to this was to go into the virtual machines settings, goto Storage, remove the .VHD file as a SATA controller and add it back in as an IDE controller. After I made that change and booted the Virtual Machine everything worked fine.
Screenshots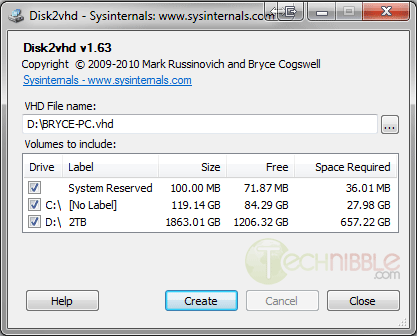 Downloads
Download from Official Site – 812kb
Special thanks to 16k_zx81 on our forums for recommending this one.
© Technibble – A Resource for Computer Technicians to start or improve their Computer Business
To get started with your own computer business, check out our Computer Business Kit.
Authors: Derrick Wlodarz
If you build it, he will come. Or so goes the famous quote. I see this phrase as a metaphor guiding the recommendations of some solely profit-driven technicians in the computer repair and tech industry at large. Technology before purpose; technology above emotion; and the misnomer that technology sells itself.

These are all misguided principles in a digital age that is only becoming more entrenched both in work and personal aspects of life. While some companies, like Apple, can get away with creating blind demand for product, computer repair technicians need to follow more logical approaches to consulting their customers to avoid becoming seen as mere salesman at a big box retailer, itching for every dollar of margin they can drive.
Let's face it. Budgets aren't limitless. People's emotions play a big part into how they purchase technology. And this is the heart of the reason why some customers will agree to pay for certain services over others. No matter how logical or clear something may seem to a technician, unless a certain need is filled by a piece of technology, its value is non-existent to a potential customer.
Time and time again, my company FireLogic is called in to clean up situations where technology was blindly installed to fill unwanted needs or to disproportionately replace other technology before it. This approach is very close to that of what smooth talking car salesman are good at doing. Up-selling vehicles with features people don't need, or inflating the perceived needs gap so that people fall victim into purchasing more car than they originally intended. Computer repair technicians are in the business of not just pushing product – they are called on to provide unbiased, experienced judgement for the computing needs of individuals and businesses.
Don't overlook customer emotions
I learned this fact the hard way after a proposed customer project fell flat before takeoff. We properly made the business, technical, and financial case for why a critical piece of software would be better suited being moved and upgraded to a different industry-standard platform. In the end, it doesn't matter what system they were coming from or supposed to move to because ultimately the project sputtered before any proposal was approved.
What we clearly misjudged was the emotion that went into the product that the customer was using. The piece of software happened to be implemented and supported by a good friend of the customer, and even though our solution was cheaper, faster, and future-proofed, it didn't matter in the end. The customer had an emotional tie to the platform which extended beyond the technical specs and bottom line surrounding the project. We could have pushed our case (and won) with almost any other business owner. But there was baggage that had to be realized here, and as a result, we backed away and considered it a dead end.
Don't be afraid to concede defeat to a customer's emotion. It's a battle that, no matter how great new tech can be, will never win the hearts and minds of every customer you serve.
Perceived benefit doesn't always match realized benefit
Hybrid cars are great money savers on gas – until you realize that you won't actually recoup the initial investment until years after usage. On-premise servers don't require a subscription like cloud services require – but their licensing and maintenance costs can easily change a business owner's mind. The problem with technicians that trumpet technology specs above all else is that don't have a macro view of the customer's perspective.
I personally love technology and enjoy getting wrangled into discussions about why one concept is better than another. But when it comes to consulting customers, there is no such thing as an "obvious" answer. When coming up with proposals to meet customer needs, I put myself in their shoes to see what their perspective is on a given need. What do they want to spend? What will suit them best for the long term? What's more than just cool – but actually gets the job done in the given budget and is proven to work as advertised? If you're merely out supporting one brand's products because you happen to be receiving commission on sales, then you're going to lose the trust of your customers sooner or later.
A well-informed technician is able to wade through the distortion field that exists in many aspects of our industry and filter out the knowledge that a customer needs to make an informed decision. The closer you can match realized and perceived benefits, the better your repeat business and referrals will end up being. It's a proven recipe that works.
Even great technology can still suck
Google Wave was a technology full of promise. It mended the gap between email and other forms of IM, and looked to create a landscape of messaging that was truly email on steroids. It died before it ever went primetime. The same fate fell on the Palm Foleo. If we want to be technically accurate, it was the first true Netbook before Asus' EEE became a household name.
What do all of these infamous technologies have in common? They met needs which no customers needed filled at the time. To the same extent, they represented a perception gap with their intended audience. Reality just didn't match up with what the developers expected customers to believe. As technicians, we need to be mindful that just because some technology is great, that doesn't mean it sells itself. That is, good tech requires purpose and proven need in order to fully satisfy a customer's desires. Too many times when I see overbearing technology pushed on customers by former IT support companies, it makes me wonder where the technicians' real allegiance sat: with that of the customer or that of their vendor.
Some of the points I touched on this article were directly pulled from my formal writeup on how to manage customer hardware and software lifecycles which is a great read as well. The biggest thing to remember here is that we need to keep our audience (aka clients) in mind before recommending technology. Even the greatest technologies out on the market can be useless to someone who has no emotional desire for it, or that doesn't provide the ROI they were looking for.
Either way, as technicians, we are considered the first line of defense when it comes to recommendations and implementation of good solutions. If we break that trust with our customers, our consulting roles will merely be reduced to that of a disposable commodity – up for bid to the lowest priced technician. Technology isn't always the solution; sometimes it becomes the hindrance for progress.
© Technibble – A Resource for Computer Technicians to start or improve their Computer Business
To get started with your own computer business, check out our Computer Business Kit.
Authors: Derrick Wlodarz
Building an expanding customer base is one of the utmost concerns for any growing or budding computer repair business. My Technibble articles consistently focus on the various ways to harness new business and keep it for the long term. But an unwieldy topic that comes up in every businesses' lifespan is the quandary of not only knowing how to let go of a bad customer, but just as importantly deciding when exactly is the right time to come to such a conclusion.
Consider this an unofficial extension to the discussion I started in my previous article that targeted the how-to of firing bad customers. This topic is very fresh on my mind because my company FireLogic recently ran across a situation that required me to make the tough decision to cut ties with what was originally an exciting new customer. While I won't get into specifics, the reasons to drop this relatively new client were getting more and more evident with each day that passed.

From a lack of client-technician trust, to unwarranted and baseless finger pointing, and temper issues that would make Donald Trump look like a saint, I had to put my foot down and call it quits. It's very hard to say no to potential business with a straight face, but knowing when the time is right to hasten such a decision will save you a lot of aggravation and time on a growing dead-end relationship.
Going off my own experiences with the above, and similar sub-par customers, here are my top pieces of advice when it comes to dropping bad business before it bites your company's bottom line.
A client's trust in your services is as important as their ability to pay
If you're building a business along the lines that you'll take on ANY customer as long as they can pay, you're truly setting yourself up for major bumps in the long term. In the example I used above, one of the biggest reasons I cut ties with this unnamed customer is because of the degrading lack of trust that existed on their behalf. Let me clarify – there was almost no trust in my company from the day we stepped in for the first consultation. This customer cited issues with past technicians as the basis for their lack of trust, but I truly think it was the other way around: no techs could service this customer because they were unmanageable in every regard. This should have been my first clear sign of trouble.
Back to the point, however, is that you should approach each new customer with an eye to see how it is that they view your company as soon as you walk through the door. What kind of language is the customer using in discussions about what they are looking for, and what they expect of your company? Is your expertise and professionalism being questioned right out of the gate? Is the customer acting as the true expert, merely utilizing your services for the sake of manpower rather than professional insight? These are all warning signs to a relationship that could end up in disaster, as I very well experienced just a short time ago. A good rapport going two ways is essential to a solid long term relationship between your computer repair business and your customers.
Don't get caught in an endless blame game, because you can't win
Another reason why I decided to cut ties with the aforementioned troublesome customer is because my company was being blamed for numerous IT-related issues that we had no hand in. Our services were called in to help resolve a bevy of problems that were festering until our arrival. Even after our best efforts, we still had the lower hand in a vicious blame game that was being led on by an unnamed third party provider which had a longer business relationship with the client than we ever could have had. I rightfully defended my company's stance on the issues and our decisions on how to resolve them, but a lack of trust further tarnished our ability to stand on a professional footing through this nightmare.
This rule goes pretty simply: if you're stuck in a blame game war, either you vs customer or in a multi-party scenario, consider it your beacon that an exit path is needed soon. The customer always considers themselves right and will continue to view you in a poor light no matter what truths you may bestow your stance in. It's a perpetual game of Pin the Tail on the Donkey, and you guessed it – your company is the eternal donkey here.
Profits shouldn't blind your decisions on who to work with
Just a few weeks back I argued why trimming services that don't make money is a good idea. One of my main points in the article was that you shouldn't let short term profits get in the way of good decision making. There definitely is such a thing as great short term money making that leads to horrible long term repeat business. This same model stands true for customers that should ultimately be dropped for a combination of reasons – some of which may look like what I described above.
I sadly looked past my gut feeling in dealing with the above customer because of the short-sighted promise of multiple near term projects and ultimately a fervent promise of long term business. That should have been one of my first clues to trouble ahead: when a customer uses the basis of their potential future usage of your services as to why discounts and/or promised service should be given in the shorter term. These should red flags for any serious discussion with a new customer, especially business clients that are looking to bring your company in for outsourced IT support needs. Getting entrenched too far with such customers places your company in a bad position and makes it ever-so-harder to cut ties down the road.
Just as much as a customer has the right to choose your company over another, you can freely decide on who YOU want to work for too. Don't be afraid to practice this two-way right.
Hoping that "next visit" will be better is wishful thinking
I was under the misguided impression that once "all this" blew over with the aforementioned customer, we could get off to a better footing and move forward. Time and time again, I was wrong, and felt the relationship spiraling downward on each subsequent visit. In fact, I dreaded waking up on the days that we were scheduled to be onsite at this client's location – it literally brought out the worst emotion inside. Even our best efforts couldn't clear the veil of doubt cast upon my company, and my wishing that the situation would improve didn't end up happening. Instead, we blew through countless hours of free support that couldn't be billed out and we had no clear path for moving forward positively on discussed projects.
Your gut feeling shouldn't be dismissed as mere emotion. If you feel like a relationship is endlessly heading south, it's probably gone too far already and you're just catching on. Count your losses, close off efforts to patch the relationship, and follow my advice on how to cleanly cut ties and go your own separate ways.
Computer repair is a service that requires an imprecise mixture of trust, communication, and responsibility which are critical pillars to solid long term relationships. When any one of the above factors fall out of tune, it's a downhill spiral that only grows out of control, eventually leaving casualties on both sides of the field. Use best judgement when consulting with prospective new customers to save yourself the frustration and stress that comes with defusing irreparable relationships. Just because someone calls for service, this doesn't mean you are obligated to oblige blindly. An ounce of prevention will go a long way.
What kind of experiences do you have with customers that led you to re-think a relationship? When did you know that it was time to "cut the noose" with a customer? Do you have tips for dealing with out of control situations? Share them with us in the comments section – we'd love to hear about it!
© Technibble – A Resource for Computer Technicians to start or improve their Computer Business
To get started with your own computer business, check out our Computer Business Kit.
Authors: Derrick Wlodarz
As a fellow technician, I know how difficult it can be to have a simplified discussion with customers about highly technical matters. What is bandwidth? Why do I need an x64 processor instead of an x86? How does more RAM actually make a computer faster? These are just a sample of the questions that get tossed my way every week. While I know very well how to tell another technician about these items, bringing the discussion down to the level of the average Joe is another matter.

People skills are tough to teach and that's a known fact. Many computer repair business owners that I've spoken to have outright admitted that they will gladly hire a great people-person that has limited technical skills over an individual with a skillset that is flipped the other way around. My previous years in working IT support for a public high school has taught me that tech people (in general – I'm not saying all) have a hard time in remembering their audience in the line of support they are providing. This, in turn, creates an unwarranted bias against those providing tech support and what they represent.
While not every technical topic can be easily translated into "normal person speak," a technician needs to make this a top priority in dealing with customers. While some customers will gladly stop you and ask for clarification, many people will merely nod their heads and give you blind agreement over the material being discussed. This not only does a disservice to the person receiving support, but is more often than not seen as condescending to the customer. Saturday Night Live had some excellent skits back in the day called "Nick Burns – Your Company's Computer Guy" that played off this very facet (in a humorous way, I might add – check one video out for yourself.)
One of the reasons my company FireLogic receives so much praise is because of the people-first approach we take to providing service. I'm not going to lie and say that I'm perfect in this regard myself, but I do make every effort possible to watch over my lingo when consulting customers. It's easy to get lost in technical acronyms and related geek speak when you are knowledgeable about the realm of computer repair, but remember that your customers are counting on YOU to act as curator and translator of their technical problems. They hire you as an expert in your field and expect to be treated as equals and not as subjects in a college classroom.
Here are the key things to keep in mind when having technical discussions with your own customers.
Use simple comparisons for easy context in technical explanations
This has to be my top tip for dealing with sticky scenarios that involve highly technical concepts that your customer just won't otherwise comprehend. It merely involves using the simple and known to explain the unknown to customers in a logical manner. I've got plenty of examples in my bag of tricks, but here are some common comparisons I make to otherwise difficult technology questions and terms:
Question: Why is more RAM better for my PC?
Answer: Think of RAM as the number of hands your computer has. The more hands it has available, the more work it can get done at once, which translates simply into better real-life performance for your everyday tasks.
Question: Why should I use OpenDNS instead of the DNS my ISP offers?
Answer: DNS is like the yellow pages that your computer refers to anytime you want to visit a website. There are many flavors of yellow pages out there, but OpenDNS is safer because it's like getting a phone directory that is already cleaned up to remove many of the bad and fake entries that otherwise exist. The cleaner your phone directory is, the safer your online experience will be.
Good car mechanics are skilled at the very same types of translations for their customers. And it wouldn't be a misguided guess to believe that those mechanics which can relate tough topics to their customers with ease are the ones which will likely see repeat business and foster better (and more) referrals.  I've been practicing these kinds of discussions with my customers for years and can usually even come up with comparisons out of thin air. For some techs, this will take a lot of practice, but it will come easier as time goes on. I'm consistently praised for my ability to level with customers in light of previous technicians that simply talked down to them.
Skip the acronyms – unless a customer already knows them
Some of my customers already have knowledge of what DNS, RAM, and CPU stand for. However, unless I know for a fact that someone has already made it known to me that they are aware of an acronym, I won't bring it up in discussion. Avoid it like the plague. A CPU can just as easily be called a processor; RAM can be equated just fine as memory; and a PSU will always be a simple power supply in the end.
You don't have to prove to yourself that you have the knowledge of various acronyms, or worse yet, believe that you should be showing off to customers by whipping out acronyms. You may think that you are coming off as experienced and knowledgeable, but you're going to build a trust gap with your customers more often than not.
One of my colleagues at FireLogic is the funny butt end of an ongoing inside joke due to his past usage of the acronym "API" with a crowd of bewildered entry level computer users at a volunteer training event we held. While it's a funny rub for us as techs, it's a prime example that geek speak has its place. And that place is a technician's lunch break, away from customers.
Use the "lowest common denominator" skill of technical conversation
This piece of advice should be the easiest way to keep geek speak to a minimum. If you're prone to bringing out the Einstein when you talk to customers, perhaps it's best to merely assume by default that each customer is unbeknownst to a technical topic unless you either have previous experience with them or they blatantly prove otherwise during discussion. There's no way to otherwise go astray in your conversation if you treat each customer as a "newbie" and steer clear of the acronyms techs love to throw around.
This is personally how I keep myself in check. I put on the mental brakes that allow me to think twice before conversing about a particular topic that may be above their heads. It's too easy to otherwise ramble on and get exposed to the inevitable "mental slip" that occurs when we get too technical and don't even realize it. If you treat each customer under the assumption that they need an explanation, you can catch yourself before the geek speak hits. The worst that can happen is someone will merely cue you in as to their comfort level with the topic at hand, and you can then let your guard down.
Written communication is not exempt
It pains me when technicians that otherwise have excellent verbal communication skills with customers let themselves blabber in tech speak in their invoicing or emails. Your written word is in some cases more critical than the spoken tongue because first and foremost, you generally can't take back documented record! Whether it be a mailed invoice or a sent email, the "undo" button generally doesn't exist.
It's easy to let tech speak fill an email without thinking twice because many people naturally don't keep mental check of what they write. It's almost an innate blindness towards realizing what was said as a sentence rolls onward. I get caught in this conundrum many times over when I write articles, and hence why I always proofread my writing for clarity before they get posted. The same guidance should apply to all written communication you have with a customer. Keep it concise; keep out the acronyms; and don't think that just because you write it they will read it. Customers can have selective reading and exercise that skill quite well.
Poor customer communication can have as much damage on your growing business as inadequate technical work. It breeds mistrust and it tends to foster a growing perception gap between a client and a technician. Using the above guidelines that I practice and enforce at my company FireLogic can be good ways to improve the approach you take with your own customers. You don't need to be an English major to follow some simple techniques that can ultimately make a great technician an even better communicator.
How do you approach working with customers when it comes to technical lingo? What has worked for you, and what hasn't? Let us know in the comments section below!
© Technibble – A Resource for Computer Technicians to start or improve their Computer Business
To get started with your own computer business, check out our Computer Business Kit.