Authors: Bryce Whitty
Disk2VHD is a free application that will make a copy of a hard disk from within the OS using Windows' Volume Snapshot capability. This copy can then be mounted in Windows as a 'disk' or run as a Virtual Machine.
Some of the reasons why you would want to do this is to make a backup of the OS, test a repair in the virtual machine copy before you do so in the live environment or move an existing OS installation into a new or different one. For example, backing up a clients install of Windows Vista, doing a clean install of Windows 7 and then allow the client to run their old Windows Vista install in a Virtual Machine.

The application is small, fast, portable and very easy to use. Simply run the executable, choose the location where you want to backup the Virtual Machine image to, tick the drives you want to make an image of, and press "Create".
As the name suggests, the image gets turned into a .VHD file which is native to MS Virtual PC. One downside of MS Virtual PC is that it only supports a maximum virtual disk size of 127GB. However, other software such as VirtualBox can also open .VHD files and support much larger image sizes.
In my own tests, I made an image of my C: drive which took around 5 minutes. I opened up Virtualbox, pressed "New" and went through the Create Virtual Machine wizard. When the Hard Drive stage came I chose to "Use an existing virtual hard drive" and chose the .VHD file that Disk2VHD created for me. I got a Blue Screen of Death when I first tried to boot the VM but the solution to this was to go into the virtual machines settings, goto Storage, remove the .VHD file as a SATA controller and add it back in as an IDE controller. After I made that change and booted the Virtual Machine everything worked fine.
Screenshots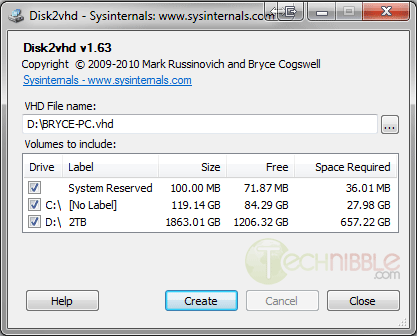 Downloads
Download from Official Site – 812kb
Special thanks to 16k_zx81 on our forums for recommending this one.
© Technibble – A Resource for Computer Technicians to start or improve their Computer Business
To get started with your own computer business, check out our Computer Business Kit.