Authors: Micah Lahren
We all have our little USB toolkits, our 'ultimate' CD's, our repair disks and other related repair tools. Most of us like to have a comprehensive list, a solution for every possible problem we could encounter in the field, to the extent of carrying around drivers for common hardware in the rare case there is no reliable internet connection near the client. The issue with having a comprehensive set of tools often means you have to search through your tools for the one you need, and once you've located it, run it, and then search for the tool you need to use next.
You may have a routine you would like to automate, but instead you sit there at the computer and babysit the mouse, clicking once every 5 to 15 minutes to close something, affirm something, or perform some other menial task. While automation is a partial solution, there is a much better solution that has been available for about a year in the tech sector, about which there have been some recent improved developments. It's been mentioned on Technibble and Podnutz before, but it deserves full coverage.

Enter D7, the ultimate technician tool, from Foolish IT, LLC. What is D7, and what does it do? Perhaps a better question would be: What doesn't it do? It has everything from 'one-click' malware removal automation, Windows repair and maintenance, backup, restoration, and migration of data, as well as a slew of system tools, shortcuts to commonly used tweaks and configurations in Windows, and much more! It can keep your tools updated, yet is fully portable. Yes, you can put it on your UBCD4WIN drive and run it from there.
A note of caution is in order, however. This is not a tool designed for consumer use. This is strictly for Tech use. The rest of the tools in your kit might be hacksaws, maybe even circular saws. D7 is the V8 chainsaw of the Tech world. It can do a lot of damage if you don't know what you're doing with it, and that is why you can password protect it when you leave the client's computer, so that they don't inadvertently find it and toy around with it when you leave, requiring you to return and repair the havoc they might have caused.
Seriously, though, what does it do? The official web site (www.foolishit.com) has some good info on how to use it and configure it if you're new to the tool, but for starters, it offers offline and live malware removal assistance through internal tools as well as third party tools you can customize yourself. It will automatically download and extract those tools when they are missing, and you can configure it to update your tools with the use of Ketarin. It's a registry editor with a mass search and delete feature.
It's a data migration tool, with backup and restore features as well. It's a networking swiss knife tool, with handy shortcuts to commonly used components in Windows that we use often, but tire of locating the long way through the Windows OS. Command line tools are condensed into 'one-click' executions, so you can forget needing to remember all those executable names and extensions. It also includes password removal features, and is more or less the equivalent of a virtual locksmith.
Let's take a look at version 6.7, the last 'free' D7 version. (I'll discuss more about this later, this has to do with the recent developments regarding D7.) On the left side, you'll see the tabs you can click on, such as Reports, where you'll find info reports, malware logs, and can perform screen captures and access them. On the Customize/Install tab, you can change host files, update third party apps, and work with dSupport. The Maintenance tab covers everything from Time Zone checks to system cleaning tools such as deletion of temp files, internet files, cookies, history, toolbars, BHO's, and registry cleaning tools. The Maintenance II tab has many more utilities you can use to test and stress test hardware, check performance, and repair other items such as the Windows Updates feature.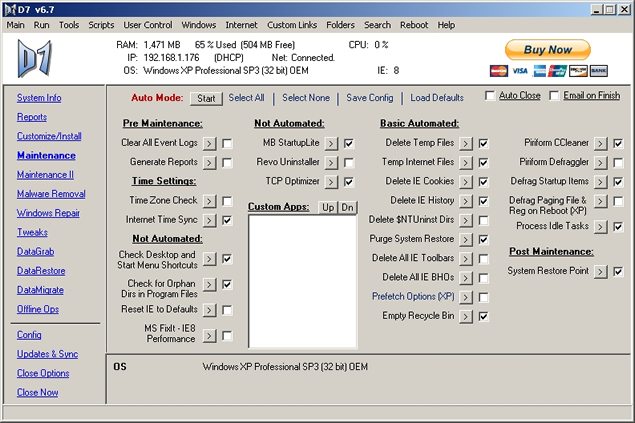 The Malware Removal tab covers malware removal assistance, and provides easy ways to recover shortcuts and hidden files after the infection. It includes scanners and methods of fighting malware as well, which you most likely wouldn't find all in one place like this anywhere else. The Windows Repair tab has a plethora of repair tools for nearly everything you could want, from repairing the firewall, checking system files, using MS FixIt, clearing print spoolers, and much more. The tweaks tab is handy for tweaking features within Windows. Datagrab is your backup tab, and it has some extremely useful features as well. DataRestore is where you work on the restoration of data, and is fairly self-explanatory. DataMigrate is again, self-explanatory, and allows you to migrate user settings, mail settings, and search for specific files with specific extensions, in case they are hidden on the drive.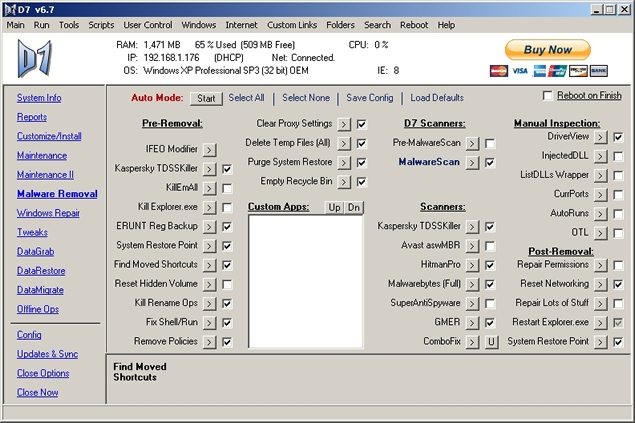 Offline Ops can find keys, restore settings after malware removal, and perform other tasks as well. The Config tab sets up the customized options, Updates and Sync updates your third party tools, and syncs your D7 configuration to a centralized location, and keeps all your D7 drives in sync. All in all, a major comprehensive computer repair utility, and best of all, it's completely free! If you've never used it before, go check it out. Once you've downloaded it, simply mouse around inside the GUI, nearly everything has a tooltip that shows up in the bottom of the GUI that describes what it does. The best part of it all is that you can automate nearly every routine of tasks you want to perform!
Regarding the recent developments, as of July 30th, 2012, Foolish IT, LLC is partnering with RepairTech, Inc, to create a new revolutionary tech product, combining TechUSB with D7 to create TechUSB Pro. For those serious about computer tech and the repair business, this is a tool you need in your toolkit. It will be a premium product, brandable with your own company name and logo, and include premium features such as uploading D7 logs to your TechUSB Portal online. D7 6.7 is still free to use, although it has some 'nag screens' when you try to perform certain tasks. As far as I know, previous versions (with less features) don't include those nag screens, but if you see this tool being useful in your company, you won't regret the small price for the usage of the premium version. The company branding feature is sure to impress your clients as well.
In summary, D7 is one of those tools you just shouldn't be without. Remember to protect the client from locating it and toying with it on their own, and you shouldn't have any problems. Use it wisely, and you will probably wonder how you ever got along without it!
© Technibble – A Resource for Computer Technicians to start or improve their Computer Business
To get started with your own computer business, check out our Computer Business Kit.