Online Conversations Tracking Across Forums, Review and Social Media Websites: Application Compatibility, Migration and New Features Top the List of Topic Areas Discussed Around the Upcoming Windows 7 Launch.
New York, NY (Vocus/PRWEB ) October 21, 2009 — iYogi, the fastest growing on-demand tech services company, announced today the results of tracking tens of thousands of online conversations around the subject of http://windowsWindows 7 [Microsoft. In a look at online discussions over the last week in ten widely used forums, 25 review sites, and four of the largest social networks, iYogi found that application compatibility and migration by far topped the list, followed by discussions around features and performance.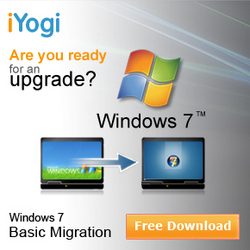 iYogiWindows 7 Migration
Top ten issues, along with examples of actual quotes from each conversation topic include:
1. Application compatibility, portability and migration
"Do I need to re-install Microsoft Office when I upgrade to Windows 7?"
2. New Features
"Does Windows 7 have the functionality of XP and appearance of Vista?" and "What's new with the Windows 7 task bar?"
3. Performance
"Is Windows 7 faster that XP or Vista?"
4. Getting ready for windows 7
"Is my computer ready for Windows 7 and is it good for running games?"
5. User interface
"Does Windows 7 look and feel like Mac?"
6. Windows 7 Networking
"Can I connect with my second computer that runs XP and also share my printer?"
7. Windows 7 hardware compatibility
"Will I need to re-install software again for my camera and phone?"
8. Windows 7 Installation, setup and deployment
"How much time will it take me to install Windows 7?"
9. Price
"Will the price for Windows 7 drop in the future?"
10. Media center
"Can I make videos and does 7 have movie maker like XP?"
iYogi's tracking of online topics reviewed discussions in:
Forums such as MSDN, TechNet, Yahoo Answers, Yahoo Groups, Google Groups, Google blog search, laptop forum, and notebook forums
Review sites like Amazon, Best Buy, buzzilions, CNET reviews, epinions, laptop community, newegg, notebook review, and product wiki
Social networks including facebook, Linkedin, Myspace & Twitter
Polls conducted by iYogi have indicated that nearly 70 percent of users are not entirely comfortable that they will be able to easily move their favorite applications over to the new Windows 7 platform, and nearly half expect to need more tech support help in order to do so.
In order to address these questions and concerns, iYogi has built a comprehensive website at http://windows7.iyogi.net with details on Windows 7 features, migration utilities and support options, along with a step-by-step guide to application migration. iYogi has more than 90,000 annual subscribers and provides thousands of support sessions every day on a 24/7 basis. Its Global Delivery Platform delivers on the highest customer satisfaction benchmarks in the industry.
For more information on Windows 7 migration services, visit http://windows7.iyogi.net/migration/
About iYogi:
iYogi is a global on-demand services company that provides personalized computer support for consumers and small businesses in United States, United Kingdom, Canada and Australia. iYogi's unique model, including proprietary technology iMantra and highly qualified technicians, is designed to eliminate computer-related stress and keep millions of digitally dependent consumers and small businesses always protected and productive. Only iYogi — with its proven global expertise delivery model, intelligent customer insight systems, easy-to-use self-help tools and automated PC optimization and computer support services – offers users a simple yet comprehensive path to digital serenity. iYogi has perfected the remote technical support model to overcome the current limitations of in-store, on-site, or call center services to become the fastest growing provider of support in the industry. Major resellers and technology companies are increasingly turning to iYogi to improve customer satisfaction, reduce return rates, and deliver a compelling new-value added offering to customers. For more information on iYogi and a detailed list of technologies supported, visit: http://www.iyogi.net.