New webdirectory Repair4Printer recently launched its collection of do-it-yourself guides for printer repair and modding. A wide array of tips, tricks, and pointers are available for any printer make from dot matrix printers to today's latest models.
(PRWEB) March 30, 2009 — Repair4Printer (http://repair4printer.org), the new webdirectory dedicated to do-it-yourself printer repair and modding how-to, is the Internet's most comprehensive and extensive collection of repair and renovation guides. The helpful directory offers a host of free tips, tricks, and pointers for almost any printer model from ancient dot matrix printers to ink printers, thermo printers and laser printers.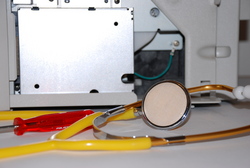 Printer Repair
Valuable guides found on Repair4Printer give step-by-step assistance in fixing almost any kind of printer trouble, including how to mend a blown fuse, clean a dusty case, fix a broken heater, and much more. All guides are free of charge and are written by computer hackers, tech addicts, and software experts from around the world. Conveniently housed online, these guides are often able to substitute for a missing or expensive service manual.
Want to conserve ink or toner in order to save money and protect the environment? Guide topics range from modifying ink cartridges to best practices when re-filling used toner boxes. Whatever the problem may be, Repair4Printer is sure to have at least one guide to point readers in the right direction.
The Repair4Printer webdirectory even features a special section that addresses self-made printers and plotters, including models made from Lego™, Fischer-Technik™, and several other brands and 3D printers.
Computer connectivity is often times a frustrating and confusing element to printers. Repair4Printer incorporates guides devoted to all different connectivity techniques: parallel, serial and UBS ports, infrared, wireless and Bluetooth™ connectors, network cards and SCSI, and more. Here, you'll find advice and instruction on how to maintain and repair these ports.
For readers who need general help with computer repair techniques, Repair4Printer offers a generic HOW TO and FAQ section full of resources and guides for soldering, chipset, pinout, connector and electric circuit specifications, and more.
Still need more help? If it's not on Repair4Printer, users will find links to newsgroups, mailing lists, and forums designed to offer further technical assistance.
For more information on Repair4Printer, please visit http://repair4printer.org.
One Response to "Free DIY Printer Repair and Modding Guides Released from Repair4Printer"